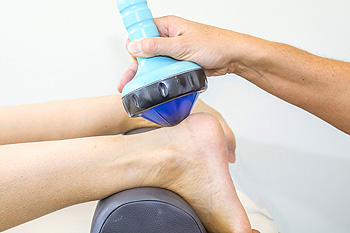 EPAT (Extracorporeal Pulse Activation Technology) or shockwave therapy is an alternative treatment method that helps accelerate the body's natural healing process. It's a non-invasive option for pain relief and works by focusing impulses to target the area in pain. This method has been proven to show a reduction in the amount of nerve fibers that transmit painful impulses, which leads to a reduction in pain.
EPAT or shockwave therapy can treat various conditions, including Achilles pain and heel pain. People with plantar fasciitis may find it helpful as well.
There are various pros and cons that come along with EPAT or shockwave therapy. Because the treatment is non-invasive, surgery isn't required and complications due to surgery are eliminated. Over 80% of people who opt for EPAT have experienced a successful outcome. EPAT or shockwave therapy is safe and effective. While some patients report the elimination of pain after their first treatment, it may take up to four weeks for pain relief to begin.
If you're curious about EPAT or shockwave therapy, speak with your podiatrist to see if this treatment method is right for you.