Dr. Gordon Fosdick, DPM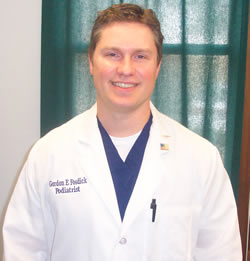 Dr. Fosdick studied at The State University of New York at Stony Brook, NY graduating in pre-medical and continued his studies at the Temple University School of Podiatric Medicine in Philadelphia, PA. He did his residency at The Washington DC VA Medical Center in the District of Columbia.
Dr. Fosdick is interested in the overall health of his patients - in the health and hygiene of the feet as well as their benefit to the overall health of your body. Dr. Fosdick specializes in foot care for all ages, providing a full range of treatment of foot and ankle disorders. His surgeries are preformed at MidState in Meriden, and Mt. Sinai St. Francis Hospital in Hartford.
Dr. Gordon Fosdick of Affiliated Foot Care Center has practices in Middlefield and Wallingford, CT.
Dr. Ryan Donegan joined Affiliated Foot Care in 2016. He completed a three-year residency at Yale New Haven, then went on to pursue a Fellowship in Sports Medicine in foot and ankle problems. His advanced training in sports medicine will get you back on your feet in less time and restore your feet and ankles to full health.