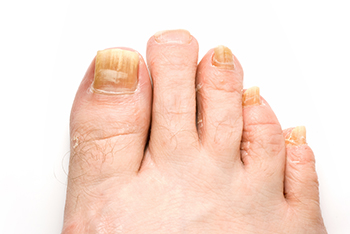 Toenail fungus is a condition that many people develop and suffer from. Toenail fungus often results in the discoloration and thickening of the toenail, which can cause embarrassment for many people. The condition begins as a small white or yellow growth beneath the tip of the nail and at its worse can develop into the nail's deterioration.

Thick, ragged, and distorted nails lacking shine are a sign of toenail fungus. The color of the affected nail tends to be darker because of debris buildup underneath the nail. Toenail fungus is more likely to develop for people who wear socks and shoes that do not allow decent ventilation of the feet. Public showers, gyms, and swimming pools are breeding grounds for toenail fungus, as their damp and humid environments allow for the growth of bacteria.

Toenail fungus is notoriously difficult to cure with over-the-counter medicines. From foot soaks to ointments, the efficacy of these is extremely varied, at best. However, in late 2010 the FDA approved the PinPointe FootLaser. This was the first of the "cold laser" treatments to gain federal approval. The laser kills the fungus in and under the nail, ridding it of the infection.

The treatment itself is non-invasive and very straightforward. The podiatrist will move the laser in a grid-like pattern over the infected toenail. This is a virtually pain-free procedure that generally takes less than 30 minutes, though it could take longer depending on how many nails are infected. After the procedure, the appearance of the nail will not have changed. While the fungus has been killed, the nail will have to grow out for you to be able to see the effect of the treatment.

Laser toenail fungus treatments are now used all over the world and can be performed by a podiatrist in-office. The number of treatments it will take to cure the fungal infection varies by patient and type of laser. Be sure to keep the feet clean, dry, and protected to avoid acquiring this condition.